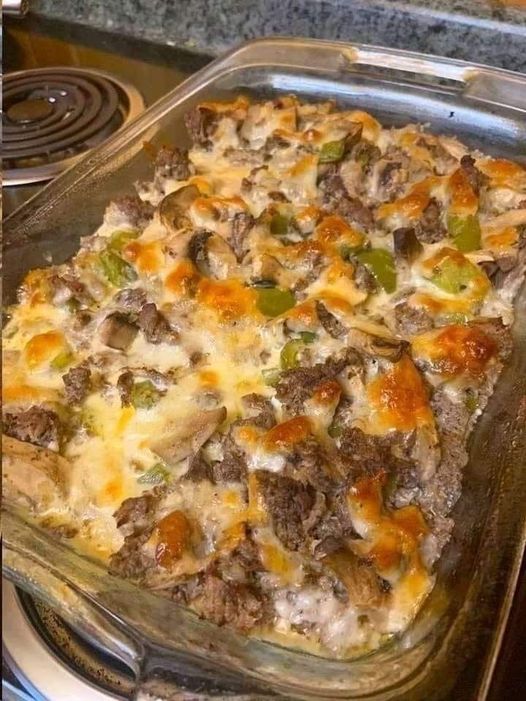 Delicious Philly Cheese Steak Casserole Recipe
Introduction:
Indulge in the flavors of Philadelphia with this mouthwatering Philly Cheese Steak Casserole. It's a delectable twist on the classic sandwich, perfect for feeding a crowd or satisfying your family's cravings. Packed with tender steak, sautéed peppers, onions, and plenty of melted cheese, this casserole brings all the beloved tastes of a Philly cheese steak to your dinner table. Follow this step-by-step recipe to create a satisfying meal that's sure to become a household favorite.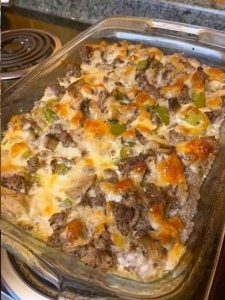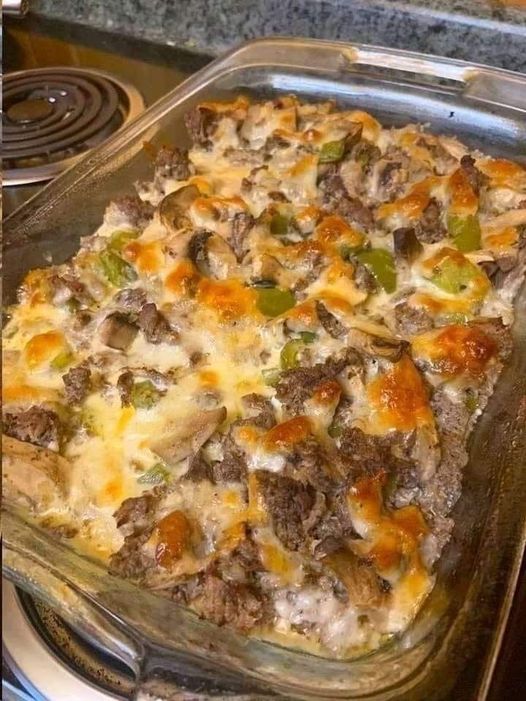 Ingredients:
1 pound of thinly sliced beef steak (sirloin or ribeye)
2 tablespoons of vegetable oil
1 large green bell pepper, thinly sliced
1 large red bell pepper, thinly sliced
1 large onion, thinly sliced
2 cloves of garlic, minced
8 ounces of provolone cheese, thinly sliced
8 ounces of mozzarella cheese, shredded
1/4 cup of mayonnaise
1 teaspoon of Worcestershire sauce
Salt and black pepper to taste
Fresh parsley for garnish (optional)
Instructions:
Preheat your oven to 375°F (190°C).
In a large skillet, heat the vegetable oil over medium-high heat. Add the thinly sliced beef steak and cook until it's no longer pink, breaking it into small pieces as it cooks. Drain any excess liquid and transfer the cooked steak to a plate.
In the same skillet, add the thinly sliced green and red bell peppers and the sliced onion. Sauté them until they become tender and slightly caramelized, about 5-7 minutes. Add minced garlic during the last minute of cooking. Season with salt and black pepper to taste.
In a small bowl, mix the mayonnaise and Worcestershire sauce.
In a 9×13-inch baking dish, spread half of the provolone cheese in an even layer. Top it with the cooked beef steak, sautéed peppers, and onions. Drizzle the mayonnaise mixture evenly over the ingredients.
Layer the remaining provolone cheese on top, followed by the shredded mozzarella cheese.
Bake the casserole in the preheated oven for 20-25 minutes or until the cheese is bubbly and golden brown.
Remove the casserole from the oven and let it rest for a few minutes before serving.
Garnish with fresh parsley, if desired.
Conclusion: Philly Cheese Steak Casserole is a delightful way to enjoy the flavors of the iconic sandwich in a comforting casserole form. This recipe is perfect for gatherings or a hearty family dinner. Savor the combination of tender steak, sautéed vegetables, and gooey cheese for a satisfying meal that's sure to please. Enjoy the taste of Philly in the comfort of your home!