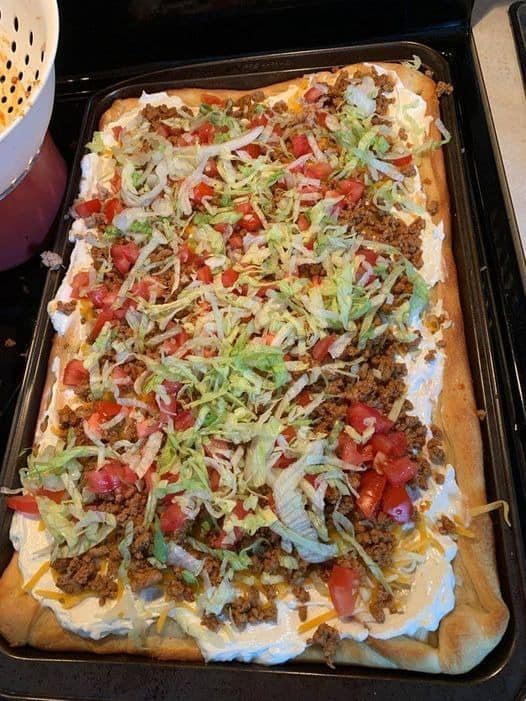 Homemade Taco Pizza Recipe
Introduction:
Satisfy your craving for both pizza and tacos with this delightful Homemade Taco Pizza. This fusion dish combines the best of both worlds, featuring a crispy pizza crust topped with all your favorite taco ingredients. It's a fun and flavorful twist that's perfect for family dinners, game nights, or gatherings with friends. Follow this step-by-step recipe to create your very own Taco Pizza masterpiece.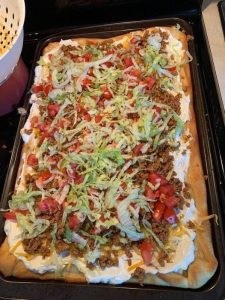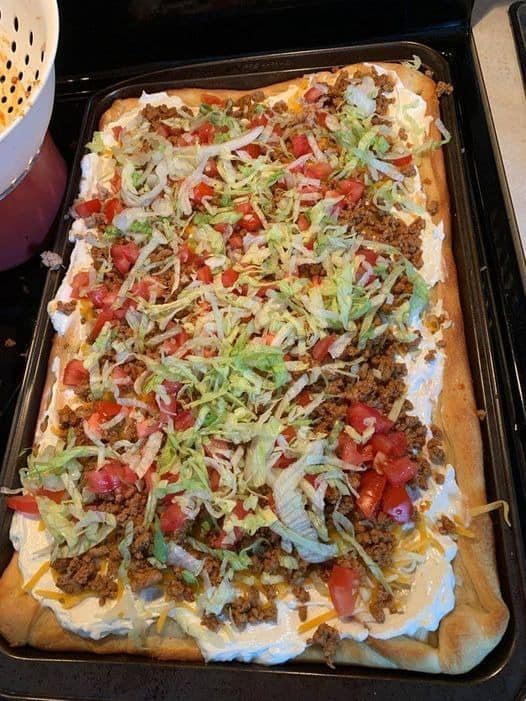 Ingredients:
For the Pizza Dough:
1 pound pizza dough (store-bought or homemade)
For the Taco Meat:
1 pound ground beef
1 packet taco seasoning
1/2 cup water
For the Taco Pizza Toppings:
1 cup shredded cheddar cheese
1 cup shredded lettuce
1 cup diced tomatoes
1/2 cup diced red onions
1/4 cup sliced black olives
1/4 cup sliced jalapeños (adjust to your desired spiciness)
1/2 cup sour cream
1/4 cup chopped fresh cilantro
For the Taco Pizza Sauce:
1/2 cup salsa
1/2 cup sour cream
Instructions:
For the Pizza Dough:
Preheat your oven to the temperature recommended on the pizza dough package or your homemade dough recipe.
Roll out the pizza dough on a floured surface into your desired shape (round, rectangular, etc.).
Place the rolled-out dough on a greased pizza pan or baking sheet.
Bake the pizza dough according to your recipe's instructions until it's golden brown and cooked through.
For the Taco Meat:
In a skillet, cook the ground beef over medium heat, breaking it into crumbles as it cooks, until it's no longer pink.
Drain any excess fat from the cooked beef.
Stir in the taco seasoning and water. Simmer for a few minutes until the mixture thickens.
For the Taco Pizza Sauce:
In a small bowl, combine the salsa and sour cream. Mix well to create the taco pizza sauce.
Assembly:
Once the pizza crust has baked and is still warm, spread the taco pizza sauce over it.
Sprinkle the cooked taco meat evenly over the sauce.
Spread the shredded cheddar cheese on top of the meat.
Bake the pizza again for a few minutes until the cheese is melted and bubbly.
Remove the pizza from the oven and top it with shredded lettuce, diced tomatoes, diced red onions, sliced black olives, and jalapeños.
Drizzle sour cream over the top and garnish with chopped cilantro.
Slice and serve your delicious Homemade Taco Pizza.
Conclusion: Homemade Taco Pizza is a crowd-pleasing combination of two beloved dishes, and it's perfect for any occasion. Whether you're enjoying it as a weeknight dinner or serving it at a party, this pizza offers a burst of taco-inspired flavors in every slice. Get creative with your toppings and enjoy a fusion of tastes that will leave everyone coming back for more.