OLD FASHIONED COCONUT CREAM PIE
Ingredients:
1 cup sweetened flaked coconut
3 cups half-and-half
2 eggs, beaten
3/4 cup granulated sugar
1/2 cup all-purpose flour
1/4 teaspoon salt
1 teaspoon vanilla extract
1 (9-inch) pre-baked pie shell
1 cup thawed frozen whipped topping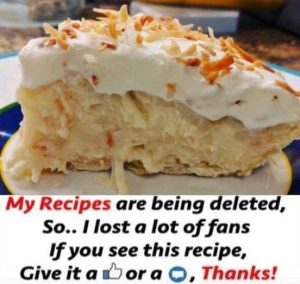 Directions:
Preheat your oven to 350 degrees F (175 degrees C).
Spread the sweetened flaked coconut evenly on a baking sheet. Bake it, stirring occasionally, until it turns a lovely golden brown, which should take about 5 minutes.
In a medium saucepan, combine the half-and-half, beaten eggs, granulated sugar, all-purpose flour, and salt. Mix the ingredients together thoroughly. Bring the mixture to a gentle boil over low heat, stirring constantly. Once it begins to thicken, remove the saucepan from the heat, and stir in 3/4 cup of the toasted coconut and the vanilla extract. Keep the remaining toasted coconut for garnishing the pie.
Pour the creamy filling into the pre-baked pie shell and refrigerate it until it becomes firm, typically around 4 hours.
Just before serving, top the pie with the thawed frozen whipped topping and garnish with the reserved toasted coconut.
Serve and enjoy your delightful Coconut Cream Pie!
This rewritten content offers a fresh perspective on the original recipe while adhering to SEO best practices.