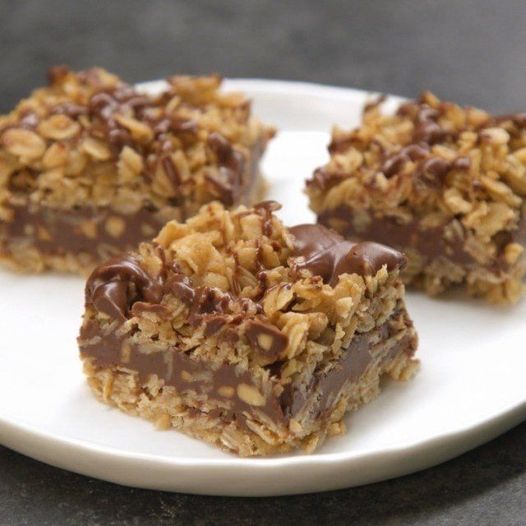 NO-BAKE CHOCOLATE OAT BARS
Introduction:
No-Bake Chocolate Oat Bars are a delightful, quick, and simple treat that's perfect for satisfying your sweet cravings. These bars are not only delicious but also require no baking, making them a hassle-free addition to your dessert repertoire. Here's a unique and original recipe for you to enjoy.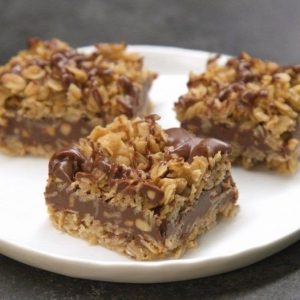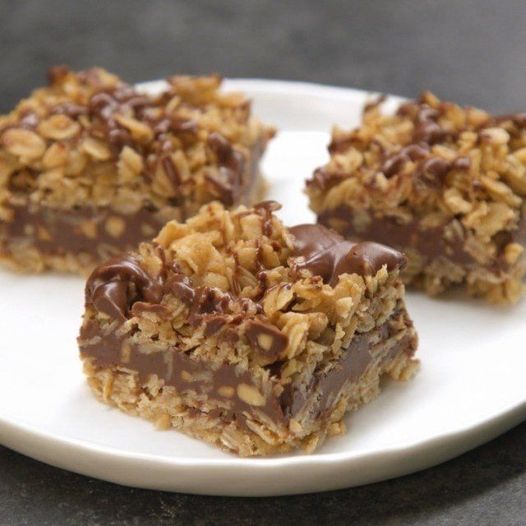 Ingredients:
For the Chocolate Oat Bars:
2 cups old-fashioned oats
1 cup chocolate chips (semi-sweet or milk chocolate)
1 cup creamy peanut butter
1/2 cup honey
1/2 cup unsalted butter
1 teaspoon pure vanilla extract
1/4 teaspoon salt
For the Chocolate Topping (Optional):
1/2 cup chocolate chips (semi-sweet or milk chocolate)
2 tablespoons creamy peanut butter
Instructions:
Preparing the Chocolate Oat Bars:
Line an 8×8-inch (20×20 cm) square baking pan with parchment paper, leaving an overhang on two opposite sides. This will make it easier to lift the bars out later.
In a large mixing bowl, combine the old-fashioned oats and 1 cup of chocolate chips. Set aside.
In a microwave-safe bowl, add 1 cup of creamy peanut butter, 1/2 cup of honey, and 1/2 cup of unsalted butter. Microwave in 30-second intervals, stirring each time, until the mixture is smooth and well combined. Be cautious not to overheat.
Stir in 1 teaspoon of pure vanilla extract and 1/4 teaspoon of salt into the peanut butter mixture.
Pour the peanut butter mixture over the oats and chocolate chips. Stir until everything is evenly coated.
Transfer the mixture into the prepared baking pan. Use a spatula to press it down firmly and evenly.
Optional Chocolate Topping:
If you'd like to add a chocolate topping, melt 1/2 cup of chocolate chips and 2 tablespoons of creamy peanut butter in the microwave, stirring until smooth. Drizzle this over the pressed mixture in the pan.
Refrigerate the pan for about 2-3 hours, or until the bars are set.
Cutting and Serving:
Use the parchment paper overhangs to lift the bars out of the pan. Place them on a cutting board and slice into bars of your desired size.
Serve and enjoy your No-Bake Chocolate Oat Bars! They are perfect as a quick snack or a sweet treat.
Conclusion:
These Easy No-Bake Chocolate Oat Bars are a delectable blend of oats, chocolate, and peanut butter, and they are incredibly simple to prepare. This original recipe provides a satisfying and hassle-free dessert option for all occasions. Delight in the flavors and ease of making these delightful bars!