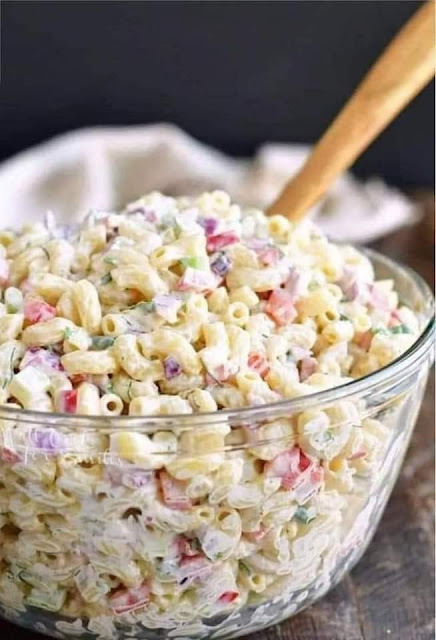 Macaroni Salad
Introduction:
Macaroni Salad is a timeless and versatile side dish that complements any meal, making it perfect for picnics, barbecues, or as a simple weekday accompaniment. This original recipe provides a fresh take on the classic, ensuring a delightful combination of flavors and a refreshing dish for any occasion.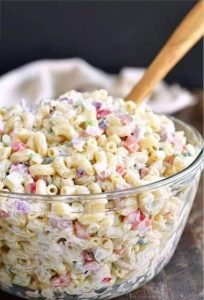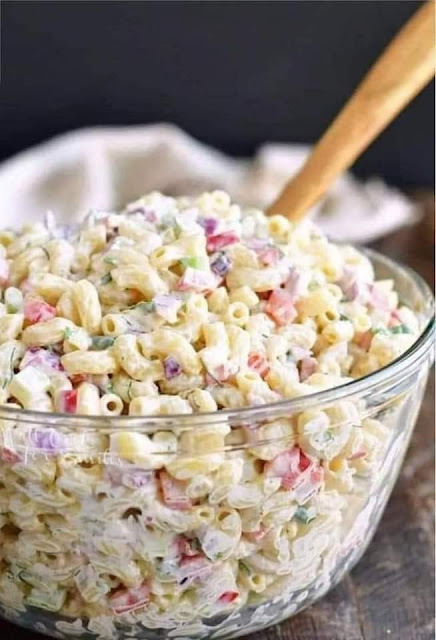 Ingredients:
For the Salad:
2 cups elbow macaroni, cooked and cooled
1 cup mayonnaise
1/4 cup plain Greek yogurt
2 tablespoons Dijon mustard
2 tablespoons apple cider vinegar
1 teaspoon sugar
1/2 teaspoon salt
1/4 teaspoon black pepper
1 cup celery, finely chopped
1/2 cup red bell pepper, diced
1/2 cup red onion, finely chopped
1/4 cup sweet pickle relish
2 hard-boiled eggs, chopped
2 tablespoons fresh parsley, finely chopped (for garnish)
For Seasoning (Optional):
Paprika and additional black pepper for extra flavor and garnish
Instructions:
Cook the Macaroni: Bring a large pot of salted water to a boil. Add the elbow macaroni and cook according to the package instructions until al dente. Drain and rinse with cold water to cool completely. Set aside.
Prepare the Dressing: In a mixing bowl, whisk together the mayonnaise, Greek yogurt, Dijon mustard, apple cider vinegar, sugar, salt, and black pepper. This is your creamy dressing base.
Combine Ingredients: In a large serving bowl, combine the cooked and cooled macaroni with the chopped celery, red bell pepper, red onion, sweet pickle relish, and hard-boiled eggs.
Add Dressing: Pour the creamy dressing over the macaroni and vegetables. Gently toss everything together to ensure even coating with the dressing.
Chill and Serve: Cover the bowl with plastic wrap and refrigerate for at least 2 hours, allowing the flavors to meld. Just before serving, garnish with fresh parsley and, if desired, a sprinkle of paprika and black pepper.
Serve Cold: Macaroni Salad is best when served chilled. Enjoy your delicious, homemade macaroni salad as a delightful side dish or a light, refreshing meal.
Conclusion: This Classic Macaroni Salad recipe offers a delightful balance of creamy and tangy flavors, making it a versatile side dish that pairs well with a variety of main courses. Whether you're hosting a picnic, BBQ, or just craving a satisfying salad, this original recipe is the perfect choice. Enjoy!