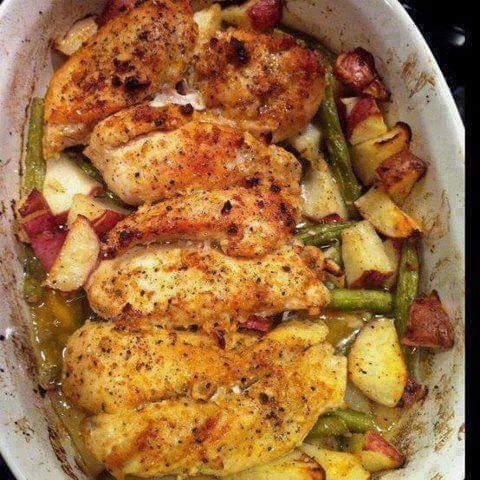 GARLIC & LEMON CHICKEN W/GREEN BEANS & RED POTATOES
Ingredients:
4 boneless, skinless chicken thighs
1 pound of fresh green beans, ends trimmed
1.5 pounds of red potatoes, quartered
4 cloves of finely minced garlic
2 lemons (1 for juicing, 1 sliced for garnish)
2 tablespoons of extra-virgin olive oil
1 teaspoon of dried thyme
Salt and freshly ground black pepper to taste
Optional: Freshly chopped parsley for garnish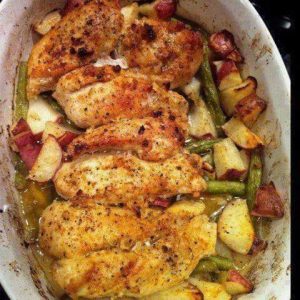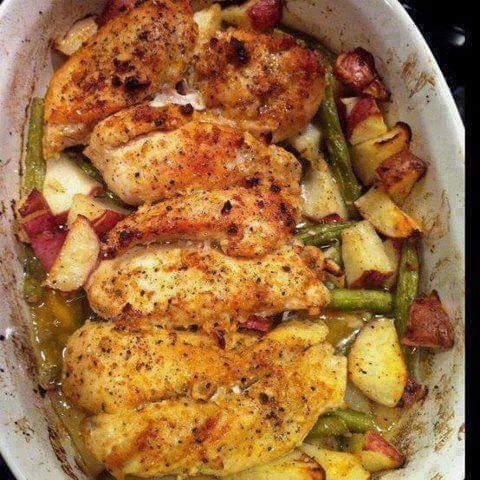 Instructions:
Preheat Your Oven: Start by preheating your oven to 400°F (200°C).
Season the Chicken: Season your boneless, skinless chicken thighs with a pinch of salt, freshly ground black pepper, and dried thyme. Set them aside.
Prepare the Vegetables: In a spacious mixing bowl, toss the trimmed green beans, quartered red potatoes, minced garlic, and extra-virgin olive oil to ensure even coating.
Assemble in a Baking Dish: Place your seasoned chicken thighs in a single layer at the bottom of a large ovenproof baking dish. Surround the chicken with the prepared vegetables.
Lemon and Seasoning: Squeeze the juice of one lemon over the chicken and vegetables. Lay lemon slices on top of the chicken for an additional burst of citrusy flavor. Adjust salt and black pepper to your taste.
Bake Covered: Cover the baking dish with aluminum foil and bake in the preheated oven for the initial 20 minutes.
Uncover and Finish: After the first 20 minutes, remove the foil and continue baking for an additional 20-25 minutes. The chicken should be fully cooked (reaching an internal temperature of 165°F or 74°C), and the vegetables should be tender.
Garnish and Serve: If desired, garnish your dish with freshly chopped parsley for added visual appeal and extra flavor. Serve your Garlic & Lemon Chicken with Green Beans and Red Potatoes piping hot.
This Garlic & Lemon Chicken with Green Beans and Red Potatoes is a wholesome and savory dish, perfect for a family dinner. Enjoy the delightful combination of flavors!