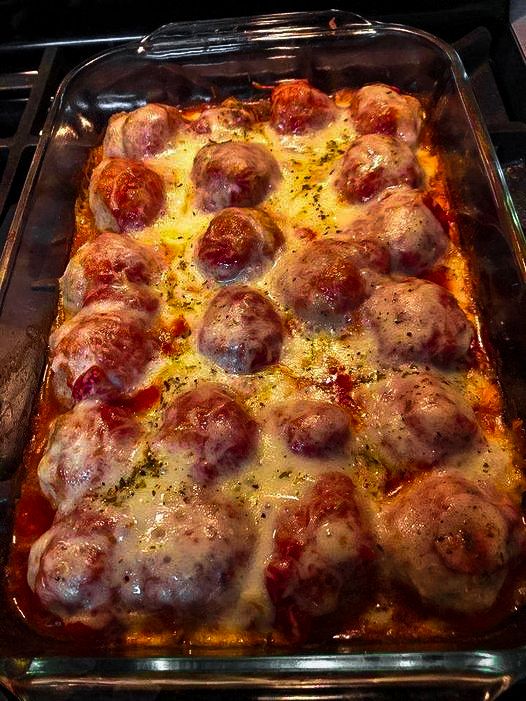 Dump and Bake Meatball Casserole
Introduction:
Looking for a simple and satisfying meal? This Dump and Bake Meatball Casserole is the answer to your dinner dilemma. It's a one-dish wonder that's easy to prepare, full of flavor, and sure to become a family favorite. With just a few ingredients and minimal effort, you can enjoy a hearty, homemade meal without the fuss. Let's dive into this easy-to-follow recipe and enjoy the deliciousness that awaits!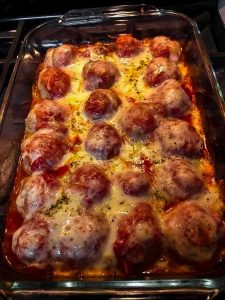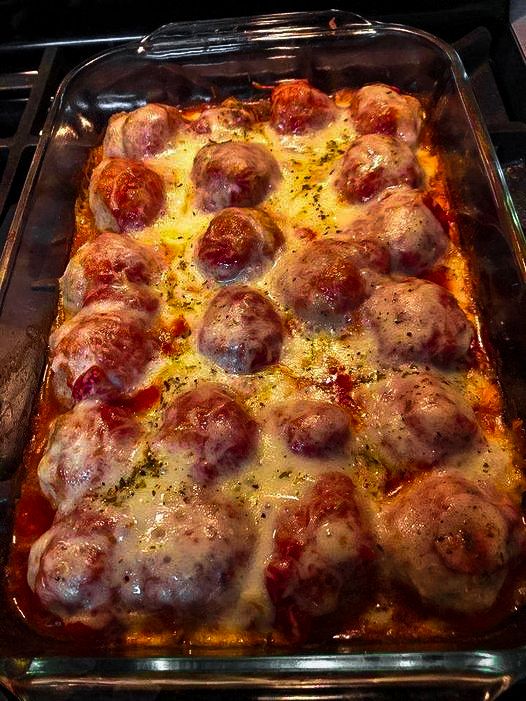 Ingredients:
1 pound of frozen meatballs (store-bought or homemade)
1 pound of penne pasta
1 jar (24 ounces) of marinara sauce
2 cups of shredded mozzarella cheese
1/2 cup of grated Parmesan cheese
1 teaspoon of dried oregano
1 teaspoon of garlic powder
1/2 teaspoon of red pepper flakes (adjust to your spice preference)
Fresh basil leaves for garnish (optional)
Salt and black pepper to taste
Instructions:
Preheat your oven to 375°F (190°C). Grease a 9×13-inch baking dish with cooking spray or butter.
In a large mixing bowl, combine the frozen meatballs, uncooked penne pasta, marinara sauce, 1 cup of mozzarella cheese, and 1/4 cup of Parmesan cheese. Mix well until all the ingredients are evenly distributed.
Season the mixture with dried oregano, garlic powder, red pepper flakes, salt, and black pepper. Adjust the seasoning to suit your taste preferences. Stir everything together to ensure the seasoning is well-distributed.
Transfer the meatball and pasta mixture to the prepared baking dish, spreading it out evenly.
Sprinkle the remaining 1 cup of mozzarella cheese and 1/4 cup of Parmesan cheese over the top of the casserole, creating a delicious cheesy crust.
Cover the baking dish with aluminum foil, making sure it's tightly sealed to keep the steam in during baking.
Bake the casserole in the preheated oven for 30 minutes.
After 30 minutes, remove the aluminum foil, and continue baking for an additional 15-20 minutes, or until the pasta is tender, the meatballs are heated through, and the cheese is golden and bubbly.
Once the casserole is done, remove it from the oven and let it rest for a few minutes before serving. Garnish with fresh basil leaves if desired.
Serve your Dump and Bake Meatball Casserole hot and enjoy the flavorful combination of meatballs, pasta, and gooey cheese!
Conclusion:
Dump and Bake Meatball Casserole is the ultimate weeknight dinner solution. With minimal prep and maximum flavor, this casserole will be a hit at your dinner table. Whether you're cooking for your family or hosting a casual dinner party, this recipe is sure to impress. Try it out today and savor the delectable flavors of this easy-to-make comfort food.