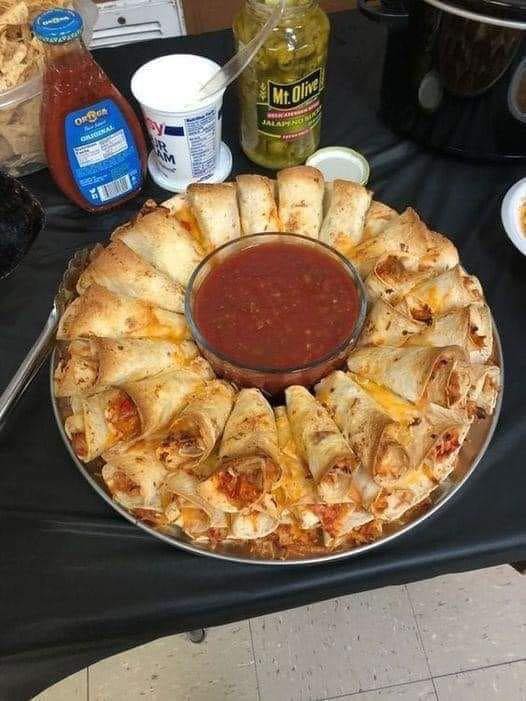 Blooming Quesadilla Ring
Ingredients:
2 cups of cooked and shredded chicken
1 chopped onion
1 chopped red bell pepper
1 chopped jalapeño
1 cup of taco sauce
20 taco-size tortillas
3 cups of shredded cheddar cheese
3 cups of shredded Monterey jack cheese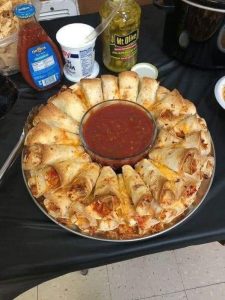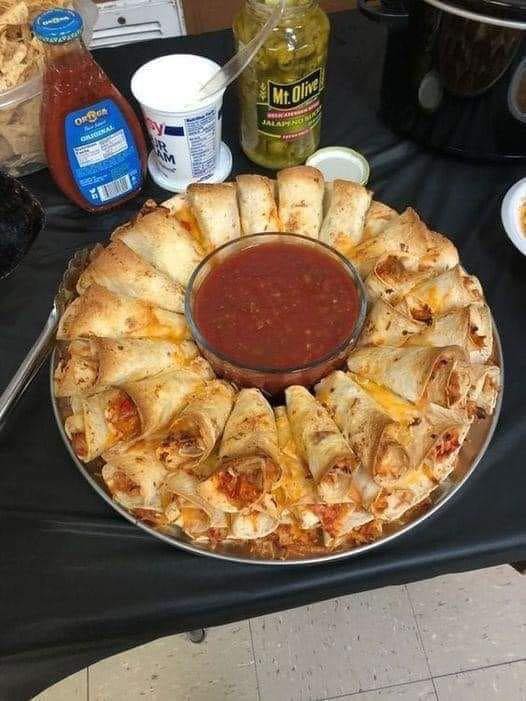 Directions:
Preheat your oven to 375˚F. Line a baking sheet with parchment paper. In a large bowl, combine the shredded chicken, chopped onion, red bell pepper, jalapeño, and taco sauce. Mix everything well and set it aside.
Cut each tortilla in half. On each tortilla half, evenly distribute about 2 tablespoons of cheddar cheese, 2 tablespoons of Monterey Jack cheese, and a portion of the chicken mixture.
Roll the tortillas into cone shapes, starting from the cut edge, and be careful not to let the ingredients spill out.
Place a wide-mouth jar or glass in the center of the prepared baking sheet.
Arrange about 13 of the tortilla cones in a circle around the jar, with the points of the cones meeting in the center, forming a ring. Sprinkle a layer of cheddar and Monterey Jack cheese over this layer.
Repeat this process with the remaining tortilla cones to create two more layers, finishing with the remaining cheddar and Monterey Jack cheese.
Carefully remove the jar from the center of the ring. Bake the quesadilla ring in the oven until the cheese is melted and the edges of the tortillas become crispy, which should take around 15-20 minutes.
Gently transfer the blooming quesadilla to a serving platter. Place your favorite dipping sauce inside the ring and garnish as desired.
Serve immediately. Approximately 20 servings.
Enjoy ❤"